Testing and monitoring judo-specific maximal grip strength and grip strength-endurance
Martial Arts and Combat Sports Research Group, Sport Department, School of Physical Education and Sport, University of São Paulo
Introduction
Grip dispute is a key element in judo combats as, according to the rules, throwing techniques can only be performed after a grip is established. During a typical judo combat, approximately 50% of the time is spent in grip dispute. Physically, the grip dispute is determined by maximal isometric strength and strength-endurance, being more related to strength-endurance than to maximal strength as the match is 4-min long. Maximal isometric strength has been extensively tested in judo athletes using the hand-grip dynamo-meter, which is not always available for judo coaches and lacks specificity as the test is executed pressing the dynamo-meter instead of establishing a grip into the judogi. However, simpler tests can be used to test grip strength-endurance and both isometric and dynamic modes can be used. This text presents the test execution and classificatory tables for strength-endurance and maximal strength.
Maximal Isometric Hand-grip Strength
The maximal isometric hand-grip strength is normally measured three times for each hand, alternately, with a 1-min interval between attempts. Athletes are instructed to stay in a standing position, with fully extended elbow and self-selected wrist positions. They are encouraged to produce the greatest possible force during 3–5 s, and measurements are conducted using a dynamo-meter. Absolute and relative to body mass highest values are registered and considered.
Grip Strength-Endurance Test
The dynamic grip strength-endurance test execution needs a bar and a judogi or pull-creck. The dynamic test consists of chin-up repetitions up to exhaustion, and each repetition is initiated in full elbow extension (Figure 1, panel A) and finished when the chin is above the grip position (Figure 1, panel B). For the isometric grip strength-endurance test the athlete must remain with his/her chin above the grip line for as long as possible (when the athlete starts to descend or try to elevate his/her knees to stabilize the position the test is interrupted and the time registered).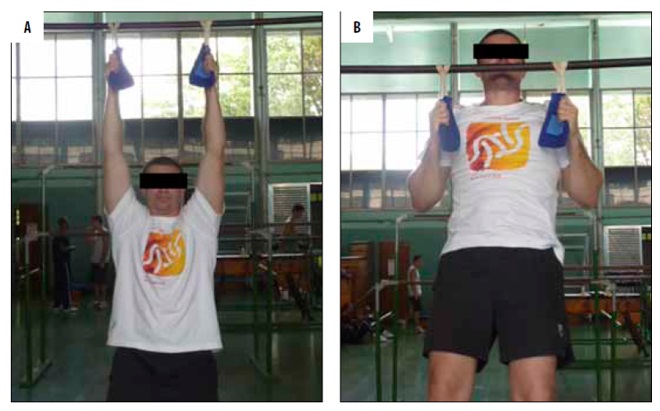 ---
As these tests involve the body mass maintenance, the relative values can be established multiplying the number of repetitions or time by the athlete's body mass, which may allow to compare athletes from different weight categories or an athlete before and after changing weight category.
Classificatory Tables
Judo coaches and strength and conditioning professionals should decide the better moment to test or monitor the maximal strength or strength-endurance of their athletes according to their periodization phases or specific needs. Once the test is conducted the athlete can be classified depending on his age and sex group, and compared with his/her own previous results. So far, for dynamic and isometric strength-endurance, it is possible to find classificatory tables for high-level cadet females (Figure 2), junior females (Figure 3), cadet males (Figure 4), and junior males (Figure 5).
---
---
---

---
A classificatory table for both dynamic and isometric chin-up tests gripping the judogi is also available for male adult judo athletes (Figure 6)2, whereas classificatory table for adult female judo athletes is lacking.
Finally, for those with access to a dynamo-meter and interested in the maximal isometric hand-grip strength can also classify their male adult athletes (Figure 7)5.
---

---
Data from different weight categories (Figure 8) 5 and age groups can also be found for male judo athletes (Figure 9).
---
---
---
Final Considerations
Both maximal and strength-endurance tests are easy and fast to apply, although the strength-endurance tests gripping the judogi are more specific and require less expensive materials. For these tests, there are classificatory tables that can be used to properly evaluate different age groups, sexes and weight categories; except for adult female athletes, for whom no classificatory table is available.
References
1. Agostinho MF, Junior JA, Stankovic N, Escobar-Molina R, Franchini E (2018) Comparison of special judo fitness test and dynamic and isometric judo chin-up tests' performance and classificatory tables' development for cadet and junior athletes. J Exerc Rehabil. 14(2): 244–252. https://www.e-jer.org/journal/view.php?number=2013600493
2. Branco BH, Diniz E, Santos JF, Shiroma SA, Franchini E (2017) Normative tables for the dynamic and isometric judogi chin-up test for judo athletes. Sport Sci Health 13(1): 47–53 https://link.springer.com/article/10.1007/s11332-016-0331-8
3. Franchini E, Artioli GG, Brito CJ (2013) Judo combat: time- motion analysis and physiology. Int J Perform Anal Sport 13(3): 624–641 https://www.tandfonline.com/doi/abs/10.1080/24748668.2013.11868676
4. Franchini E, Del Vecchio FB, Matsushigue KA, Artioli GG (2011) Physiological profiles of elite judo athletes. Sports Med 41(2): 147–166 https://link.springer.com/article/10.2165/11538580-000000000-00000
5. Franchini E, Miarka B, Matheus L, Del Vecchio FB (2011) Endurance in judogi grip strength tests: comparison between elite and non-elite judo players. Arch Budo 7(1): 1–4 http://files.4medicine.pl/download.php?cfs_id=1215
5. Franchini E, Schwartz J, Takito MY (2018) Maximal isometric handgrip strength: comparison between weight categories and classificatory table for adult judo athletes. J Exerc Rehab 14(6): 968-973 https://www.e-jer.org/journal/view.php?number=2013600608
6. Franchini E, Schwartz J, Takito MY (2020) Maximal isometric handgrip strength in judo athletes from different age groups. Sports Sci Health 16(1): 93-98 https://link.springer.com/article/10.1007/s11332-019-00577-7