Effects of intensified training and tapering periods in judo
ABSTRACT
This study investigated the effects of intensified training and tapering periods using different exercise modalities on judo athletes' physical fitness. Fifty-nine adolescent male and female judo athletes (age 15 ± 1 years) were randomly assigned to one of three experimental groups or one control group (CG). Experimental groups (kumi-kata [KG], uchi-komi [UG] and running [RG]) trained four times per week over four weeks of intensified training (in addition to their usual technical-tactical judo training; CG underwent only the usual training) followed by 12 days of tapering. The countermovement jump test (CMJ), isometric and dynamic judogi chin-up tests (JCT), uchi-komi speed test (UST), Special Judo Fitness Test (SJFT) and Judo Physical Fitness Test (JPFT) were administered before and after the intensified period and after tapering. The CMJ performance was superior in KG compared with UG, RG and CG. Isometric JCT performance was superior in KG compared with RG and CG. Regarding UST, performance was superior in UG compared with RG and CG. The same performance was superior with respect to the same groups considering pre-training to tapering change. The SJFT index did not differ between groups or time-points. The JPFT index increased after intensified and tapering periods compared with before training, with KG eliciting higher values compared with CG. Coaches and conditioning coaches could administer kumi-kata high-intensity interval training to enhance athletes' judospecific physical fitness.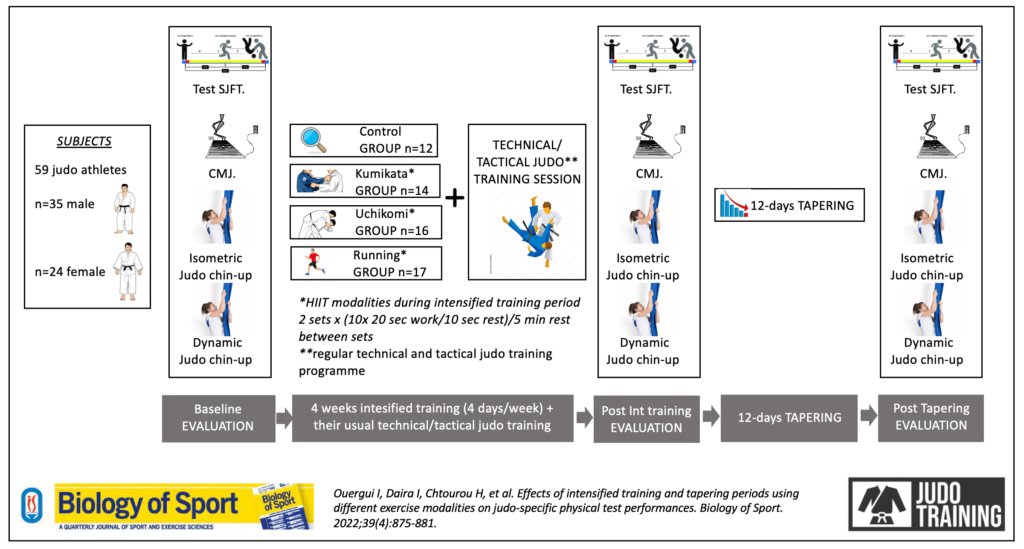 KEY WORDS: combat sports, athletic assessment, strength, speed, high-intensity interval training.
Download the full article HERE.
If you want to know more about tapering in judo don't miss this interview published in our website few months ago.