Differences in the Bodyweight, Hydration Levels, Lean Mass, and Fat Mass in Spanish Junior Elite Judokas
The article was born, thanks to the personal motivation of the scientific group being part of my doctoral thesis (David Gamero-delCastillo) which will have a systematic review and different articles in order to relate variability of important physiological variables and sport success in young's athletes.
We are part of Sports Department and AFIPE group Research.
Lack of bibliography and with a sample of young's judokas were identified and was detected a practical problem, Juniors judokas of the High Performance Sport Centre Madrid reported many problems to arrive to weigh-in day without compromise the health, maybe the performance and don't loss several kilos the precedents days.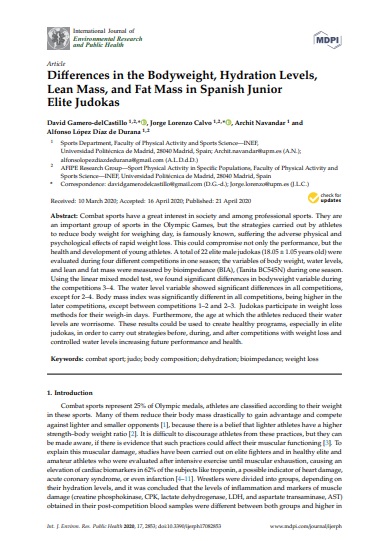 Objective
Determinate across time (near to a season) during four important competitions the variability in the variables (body weight, water levels, fat mass and free fat mass) in this group of Judokas with the idea of give a response and create educational programs with an interdisciplinary team.
Results
Significant differences were found in body-weight variable between the 3rd and 4th competition (Spanish Junior Judo championship) and Spanish National judo clubs league, existing a depletion of body water levels in the most important competition measured, the Spanish Championship. Also, differences were found in water levels between all competitions, except 2nd (Madrid junior judo Championship) and 4th. Body mass index was significantly different in all competitions, being higher in the competitions with less competitive charge (there are practices competing in above weights) except between competition 1 (Madrid Judo Clubs league) and 2 / 2-3 due to the temporal proximity.
Practical implications
Judokas participate in weight loss methods, worrisome for the early age. it is important advice to all athletes to drink enough fluids all day to avoid a dehydrated state, both in training and in competition. These young athletes experienced dehydration during different moments, mostly during the first week in order to transition from the holidays and pre-season to the first competition of the year. Adolescents and lower category athletes must be encouraged to drink before, during, and after practicing any activity, and the team responsible for them should observe and control their hydration status and index. Of course, control and evaluations must be individualized and should replenish the fluids lost during judo activity. Furthermore, athletes should frequently avoid the common practice of restricting fluid intake and engaging in rapid weight loss strategies to reduce and eliminate the negative effects of marked dehydration on mental and physical health and performance, and guide sports practice to integral development (Franchini et al. 2005, Cano et al 2009, Hernández, J.G. 2014 and Ortega Toro, E. 2019)
A multidisciplinary work is necessary such as, sources by the implicated organizations in order to create educational programs and help athletes to take care of their health and performance.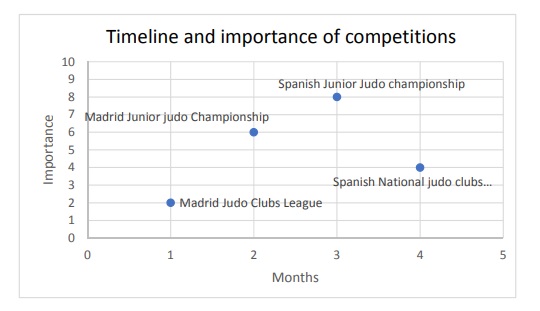 Research Gate profiles: