Many months ago Marcus Agostinho published on his site one interesting article about the results at the Olympics Tokyo 2020, with some interesting conclusions like this: " More than half of the Olympic medalists did not participate in the Senior World Championships that took place a month and a half before the Olympic Games. In fact, only 11 Olympic medallists had climbed to the podium at the last Senior World Championships and only France's Clarice Agbegnenou managed 2 gold medals in these events (actually 3, If we count the medal in the team contest)".
Now has just been published one article with a deep analysis about the convenience or not to participate in the World Championship before the Olympics within a short period of time.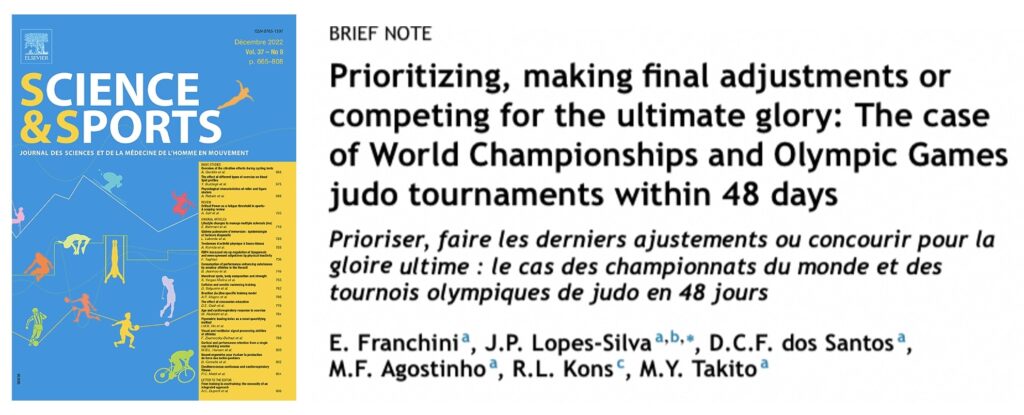 ABSTRACT
PURPOSE
The purpose of this study was to check the chance of winning an Olympic medal considering the participation or not in the World Championship and the outcome in case of participation.
METHODS
We analyzed a total of 390 athletes (200 males and 190 females) competing in the Olympic Games. A logistic regression was used to measure the magnitude of association between winning a medal in the Olympic Games and participation in the World Championships.
RESULTS
The odds ratio of winning a medal in the Olympic Games was 12.7, 21.2 and 8.2 times greater for World Championship medallists when compared to non-medallists in the World Championship for all athletes, females only, and males only, respectively. Furthermore, high-level athletes who did not compete in the World Championship had also increased odds ratio of winning an Olympic medal compared to those who participated in the World Championship with no medal: this was 6.6 times greater for the whole group, 6.7 for females only and 6.5 for males only.
CONCLUSION
Our results show that increased odds ratios of winning an Olympic medal were found for judo athletes competing in the World Championship and winning a medal in it, as well as for those avoiding this competition.
Purchase and download the full article HERE (24.95$).